"How to sell my home?"… Dirt smells, Clean sells.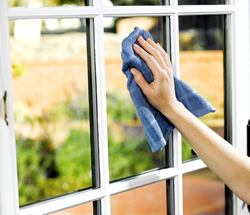 Clean, clean, clean! It's what makes the difference. Professional cleaners do cost more than doing it yourself, however there are some advantages you might want to consider.
Guardian Angels clean the entire house at one time, within 2 or 3 days everything will be cleaned. Not just the dusting but under the refrigerator, the laundry, the whole toilet, the rugs, the floors, the windows, and the countertops; all the nooks and crannies.

It's the products Guardian Angels use that make a difference. They know by experience what cleans what the best. They bring all their own equipment and supplies to make your home sparkle and shine. And you save money by not trying all those useless products.

Guardian Angels stage your home as they clean; when they move a sofa they might put it back somewhere more attractive to the eye. They de-clutter, but keep things organized so you can still find the remotes and morning newspaper. It's true your home needs to become a Model, but Guardian Angels help you make it a living Model.

Nothing goes a longer way than a clean, sparkling house. Older cabinets, floors and bathrooms can take on a new look just being clean. Remove shabby window treatments to let in the light. Your home should be meticulous, regardless of the age. Buyers should walk through the house enjoying the beauty, not footprints on your floors. Knowledge and elbow grease will produce wonderful results for your home. And not just sparkling, but your home will smell clean too. No candles, perfumes and sprays needed here. Now you are ready to sell your home!

I feel compelled to write this letter because of how overwhelmed I am with admiration at the wonderful work of the Guardian Angels. I bought a house for the first time and the sellers generously hired the Guardian Angels to do the clean up. The condition of the house can only be described as meticulous. Everything was cleaned, polished, buffed ot shined. I just walked through the house enjoying the beauty. They must have great knowledge with a lot of old fashioned elbow grease to produce such wonderful results. I stringly recommend them to anyone who wants the very best home reparation.

-Kent C.