Home Inspection Services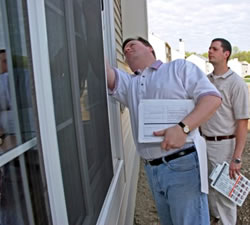 Buyer's home Inspection has been delivered and in order to go forward with the contract some repairs must be made. And you only have a few days!
An immediate response is needed, maybe a major repair. At times like this it is important to work with a company that understands a deadline. Someone to just explain the home inspection report can be comforting to sellers who often consider their home to be perfect. A simple repair can sound so menacing in writing.
Guardian Angels can respond quickly. They will make a commitment and get the job done professionally, cost effectively and meet your deadline. Because they are associated with major contractors, lead time can be fractured, but quality not sacrificed. Much of the work is done by Guardian Angels, however major undertakings such as electrical circuits, roof repairs and plumbing leaks are easily delegated to our in house sub-contractors. Your home will become a beehive of activity. Coordinating all needed repairs, scheduling and providing one invoice for payment, takes the worry out of selling your home.
Your closing will take place! You have Guardian Angels.
440-338-8872

"I would like to thank you for an excellent job you did in helping deal with the loss of our Mother and the liquidation of her estate. From managing the city inspection of the property and the needed repairs, the sale of the remaining contents of the house and your recommended improvements, every step has been professional and completed in a very responsive manner. In addition, your compassion for the situation made hard decisions a little easier to make and gave us great comfort."

– The C. Family