Senior Downsizing and Moving Management Services from the Guardian Angels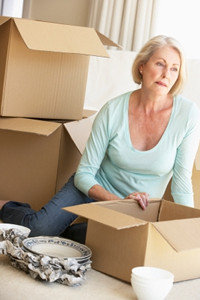 You're Moving! Where do you begin?

Experience has proven that we are all packrats. It also proves that we make every effort to fill every storage area, shelves, closets and cubbies to the max. And down the line experience fails us when we decide to downsize, it goes against all natural instincts to save for a future time. The future time is here and we didn't need to save for it, we needed to discard all along. Guardian Angels have found in their experience some easy ways to cut the turmoil and the stress. After more than a decade moving seniors, each client is a new adventure. The challenge is in the details.
RELAX. You are not alone, everyone feels just like you do when they reach this point in downsizing. It's a terrific idea until you start the process.
SET A DATE TO MOVE. Nothing motivates us more than a deadline. Even if it may be rescheduled later, get a date in mind and try and stick to it.
GET A GARBAGE BAG. The very first thing you must do is walk through your home with a bag and throw out all those empty bottles, boxes and old newspapers that never found their way to the waste can. Be determined, open cabinets and closets and do the same with all of that trash that accumulated. While you are at it, empty the waste cans as soon as they get full, it will give you an incentive to throw more away if you have a place to throw it. You'll be amazed at how much room you'll make and have experienced the first attempt at letting go of things. Now on to the more serious decisions.
PICK A CHARITY FOR YOUR UNWANTED ITEMS. Making the decision based on your preferences will give you a feeling of wanting to sort things and give them to your charity of choice. You'll find you'll want to help and so the sorting goes faster. Picking a charity that will pick up might be a great time saver and back saver too.
LIST THE FURNISHINGS YOU MUST KEEP. Family inheritance, special purchase, you just love it, each is the perfect reason. Now with floor plan in hand, start placing these furnishings in appropriate places. If you feel you can't do this alone, please ask a professional to help you make those decisions. You might be able to use even more than you think you can. Keep in mind that in downsizing you will need storage, comfort and convenience above all. Try and select those furnishings that will accomplish this goal. Your bedside table has been a close friend for many years, keep it close by in your new home.
VALUABLES NEED TO BE APPRAISED. Before you discard that rusty old doorstop, call someone who can value your items. They will assist you in making selections based on value as well as beauty; you might as well keep the most valuable if there is a choice to be made. Should you have a large quantity to liquidate, there are alternatives in selling your belongings, large and small quantities not withstanding. At least you won't be throwing out something of value.
GET THE KIDS TO TAKE YOUR STUFF. Your children will want many of your precious things, most often their choices are for sentimental reasons; Grandma's china, dad's fishing pole, their baby quilt. Everyone wants to pass things on and be remembered, just as you have done with your Mother's precious necklace. A reminder of a Memory. Give them a deadline though, Guardian Angels have found that breaking up the home they lived in is almost as hard for them to do as you, so they keep putting off the dismantling process. Be strong, give them a deadline too!
THE CLOTHES. Here's an easy way to decide what to take. Measure the hanging space (rods) in your new home then in your closet in your old home mark off the rod so that is exactly the same length. Now, start pulling out what you don't need, replace them with other things from the closet until you have two sections. One with all the things you are keeping and you now know will fit; the other section to be donated to that favorite charity. Do the same with the dressers, chests after you have decided which ones you are keeping. Take everything out of them. Then pick and fold your keepers and place them back in the chests you are moving. Not only will you have made important decisions but also you've now packed for the movers. They will move your chests and cabinets with soft goods inside. Take all the leftovers, bag them up and ask your charity to pick them up. Job done!

SENIOR MOVE MANAGER/CO ORDINATOR. When you can't do it yourself Guardian Angels are senior move managers to assist your every step. They will do the organizing, disbursing, packing, moving and help you settle into your new home. Guardian Angels have provided that service to many. Experience and objectivity help speed things along without sacrificing your needs, wants and desires. They are your helping hands, feet and back. It's like thinking of something that needs to be done and then find in moments it's already finished.
Your move is an exciting decision and the new life you'll be leading is filled with new friends, enjoyment and peace of mind. Consider a move, travel to a new exciting place you haven't been before. We even urge you to pack a suitcase just before you move. Pretend you are going for about a 2-night stay, that way you have your urgent medications, enough clothes and your toiletries handy until you discover where everything else has been stored.

"Between Big Pat, Little Pat and Karen, you all did a Herculean job of moving the B family and eighty some years of many cherished memories and you took wonderful care of them. Thank you so much."

– Loretta B.

"Please let me start by saying what a pleasure it has been to have employed your organization for the move and care of our Mother. We felt in both instances, the move from the Condo to Hamlet apartments and from the apartments to the atrium, we received the finest of services. During the packing and sorting you treated Mom's belongings as if they were your own. We felt safe in leaving Mom with you while we attended to additional issues. Not only were you caring in your work handling a lifetime of treasures, but also expedient in the process. As you know this can be very trying times for a family, moving their parents, it's not easy. We thank you again for the care and concern you took. We would certainly recommend The Guardian Angels to friends and family."

– Douglas and Kathleen C.